Hope in the Future
"You will receive power when the Holy Spirit comes on you, and you will be my witnesses not only in Jerusalem but throughout Judea and Samaria, and indeed to the ends of the earth." Acts 1:8
Our Hope in the Future Prayer
The Five Stages
The Hope in the Future journey is broken down into five stages. The following roadmap shows when the various stages, events, and resources will be launched but your parish may want to move at a different pace.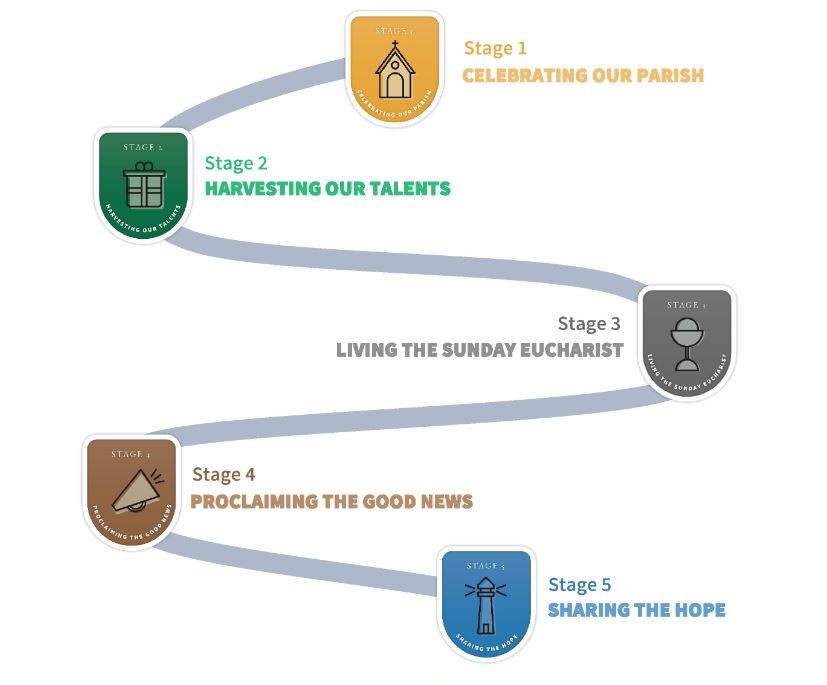 Mission
Inspired by the teaching of Pope Francis in Evangelii Gaudium, Bishop John desires to encourage the development of missionary parishes.
A missionary parish is a community called to be open to the Holy Spirit so that the Good News of Jesus Christ can be known to all through welcome, engagement, and outreach.
A missionary parish will have a focus on Evangelisation: deepening our relationship with Jesus Christ and inviting others to get to know Him and the Gospel message.
Corpus Christi and Hope in the Future
We regularly meet with our parish Hope in the Future team and representatives to discuss ideas to develop the link between schools and parish.
Along wit St Herbert's, we are part of the parish of Divine Mercy.


Meeting Hope in the Future representatives
6.3.23- Our Faith Life Pupil Leadership teams enjoyed their time today meeting representatives for our Hope in the Future team. They shared their roles within school and talked about the work they do.
Launch of Stage 5
Some representatives from our Pupil Chaplaincy team, Mini Vinnies and Laudato Si' team, helped in launching the stage 5, sharing the hope at Corpus Christi Church on Sunday 22nd January. They were a credit to us and we excellent ambassadors for our faith groups in school.
Advent Appeal 2022
Some representatives from our Pupil Chaplaincy team appealed to our parish family for this years Advent Appeal for our school communities and local charities.
Holy Hours 2021
Our Pupil Chaplains joined together with the GIFT team at St Herbert's for Holy Hour. They performed a liturgical dance to the Hope in the Future Anthem.
Holy Hour 2021